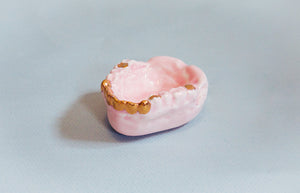 DENTURES DISH
Sale price Price $69.00 Regular price
Hand crafted ceramic dentures dish featuring gold caps and fillings.
As with all artisanally crafted products there will be variances in size form and colour from item to item.
8cm long x 6cm wide x 3cm tall
Every Degoey Planet piece is created in Queensland, and hand made to order. Please allow up to four weeks for your piece to be produced. Or touch base via email if you need something by a specific date.